Keio Short-Term Japanese Studies Program (KJSP)
The Keio Short-Term Japanese Studies Program (KJSP) is a two-week program for international students and Keio students to learn about Japan through collaboration.

The program offers a variety of lectures on Japanese economy, business, arts, and traditional and modern culture, as well as activities related to those lectures, allowing students to understand Japan and to improve their cross-cultural awareness. Students will gain knowledge not only from the lectures by experienced faculty members and through a range of activities, but also by communicating with each other.
Providing students with short but intensive online learning opportunities, this program is best suited for undergraduate or graduate-level students who are interested in learning about Japan. Through joining discussions and giving presentations on their cultures and societies, international students will also have a chance to rediscover their own countries from an outside perspective. We invite you to take this exciting educational opportunity this spring.
---
About Keio University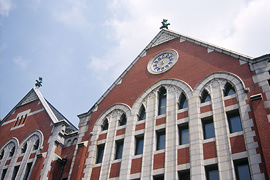 Established in 1858 by Yukichi Fukuzawa as a small school of Western learning, Keio has a history as Japan's very first private institution of higher learning. Over 160 years since its founding, Keio has thrived under its founder's motto of jitsugaku, or empirical science, as it continues to transform Japan as a modern nation through contributions to education, research, and medicine.