Keio University CEMS MIM Programme
CEMS Brochure (Pamphlet) (Outbound)
To learn Keio University CEMS MIM Program, our Graduate Schools, Student Voices, and etc.,
Please check our Keio CEMS Brochure.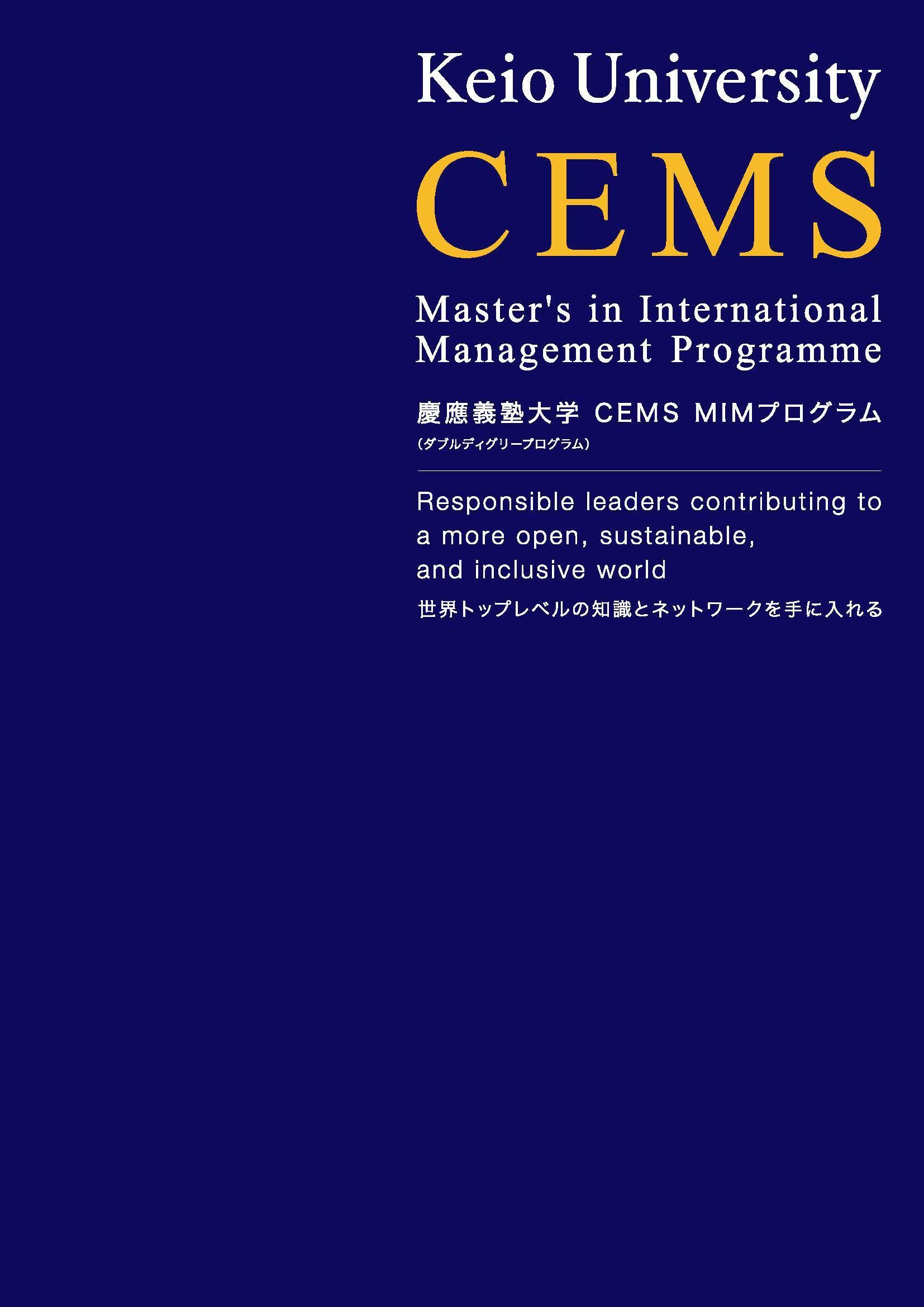 Keio University CEMS MIM Programme
Keio CEMS MIM Programme (Outbound)
CEMS MIM Programme at Keio and Application (Inbound)
For details, visit the website below.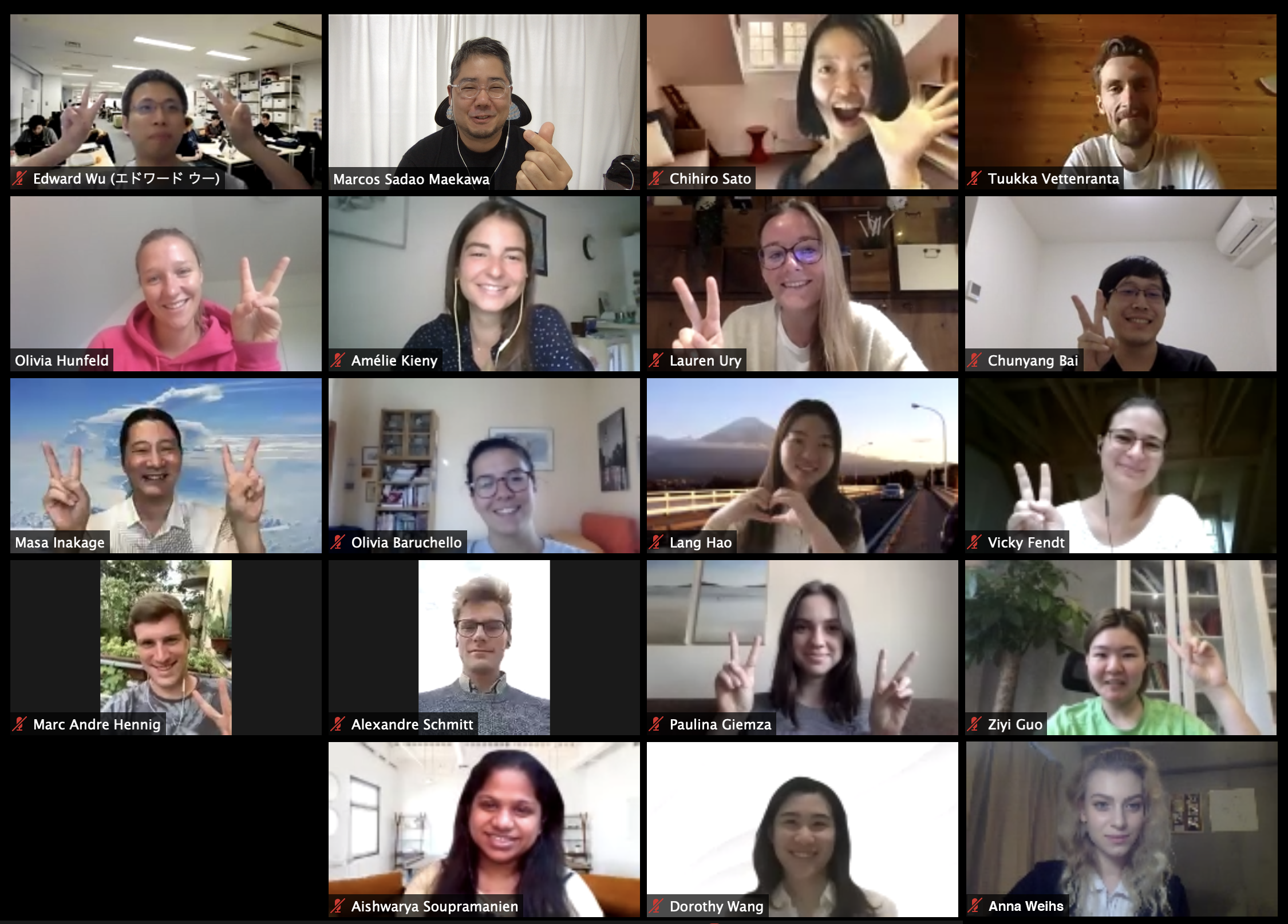 Voices of CEMS Students and Alumni
Voices of CEMS Alumni
Keio CEMS alumni, Yingqi Liang's interview is released on the CEMS global website.
https://cems.org/students-alumni/alumni-network/alumni-interviews/yingqi-liang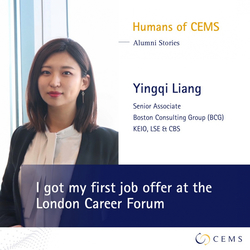 The article of Chunyang Bai (Haru), graduated from Keio Media Design.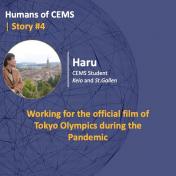 Our current CEMS student, Chunyang Bai (Haru), from Keio Media Design is introduced on the CEMS Global website.
"Today, let us introduce Chunyang Bai (Haru), a current CEMS student from China. Haru's home university is Keio University, Japan, and he went on exchange to University of St. Gallen, Switzerland in Fall 2019. As a former TV journalist, Haru had a chance to work for a project that was filming the documentary for Tokyo Olympics 2020. In today's episode, Haru is going to tell us his personal story of how he managed his way from China to Japan and his experience of working for Tokyo 2020 during the pandemic."
Other news are on the website below.
Voices from Outbound CEMS Students
CEMS is a special place, filled with diverse, cosmopolitan, and energetic people. This unique program offers the intellectual opportunity to acquire core knowledge in both 'Academia' and 'Business'. The business management curriculum can build your capacity for effective leadership and teamwork. The various CEMS seminars and social events provided by CEMS Club can expand your network, worldwide. Moreover, the classmates you meet in CEMS class would be lifelong friends of you. I very recommend CEMS program not only for its prestigious status on global ranking of master's in management, but for the unique and diverse peers waiting for you.
Yuhong CHEN
(Keio CEMS Student, 2019/2020)
For me, CEMS is not only an International business management program but also a learning experience of how to understand and respect people from different nations and backgrounds. As it is still unpredictable how profoundly the pandemic of COVID-19 will change our world, we need to stay open-minded and courageous to learn and deal with all the unexpected. I feel really as these traits are what CEMS has equipped me with. Currently working as a production manager for the official film of the Olympic Games coming this summer (2021), I would want to take full advantage what I have learned from CEMS to fulfill my job in this unprecedented Olympic event in history.
Chunyang BAI
(Keio CEMS Student, 2019/2020)
My academic years at Keio University and CEMS have been full of new impressions, where I spent my two years of master's studies in three different countries, making new friendships, throwing myself into new environments and stepping outside of my comfort zone. It was challenging but rewarding experience combined with taking representative role for Keio University among 32 top universities. Combined to that, I had an opportunity to apply my academic learning in practice in various internship projects at Bosch, Mitsubishi and McKinsey. Those rotations occupied me with sales, finance and analytical experiences.After graduation, my passion to fashion retail industry as well as pursuing international career in business disciplines led me to join H&M as Regional Merchandising Analyst for North East Asia in Tokyo. I am looking forward to continuing my learning curve, meet new people and apply my gained knowledge in H&M from day one.
Shakhlo KHODJAEVA
(Keio CEMS Student, 2018/2019)
The CEMS MIM Programme offers both opportunities to learn the fundamentals of business in prominent grad schools all over the world,and the chance to experience the local culture while you are there. For me, the experience of going hunting in a Finnish forest is an unforgettable memory.
立川仁美 Hitomi TACHIKAWA
(Keio CEMS Student, 2017/2018)
This one year programme has been a precious experience that I will carry with me forever, not only because I improved my knowledge and skills, but also because of the people I met along the way. During the CEMS Programme, you will definitely have a lot of culture shock, but it will be good inspiration and help you with your personal improvement and growth.
梁小萌 Xiaomeng LIANG
(Keio CEMS Student, 2016/2017)
I fully recommend CEMS to all students at Keio University. CEMS became a unique network on amazing individuals with a great global reach. I personally love the way how global corporations and the Universities work together and how at any moment the students are the center of attention.
Boris Friedrich MILKOWSKI
(Keio CEMS Student, 2013/2014)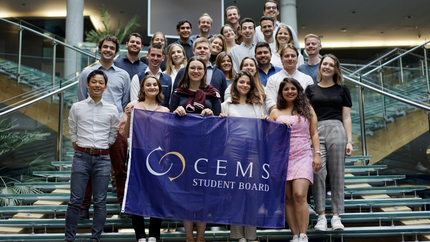 Voices from Inbound CEMS Students
There were a couple of challenges I faced during my semester abroad in Japan. Despite being very demanding I would rather call them "opportunities to learn more." This is because the CEMS MIM Programme helped me develop both intellectually and personally. They helped me become a better, more conscious person. Most of the challenges were caused by cultural differences. There were challenges with communication, with being organized, and of course intellectual challenges during courses and Skill Seminars. All of these challenges/opportunities made my semester at Keio even more fulfilling.
Karolina SALEK
(Warsaw School of Economics, 2017/2018)
You should take advantage of all the opportunities that the CEMS Programme offers you. My advice would be to do your block seminar at a school other than your home university, and definitely attend the CEMS Career Forum and the other forums, and network with fellow "CEMSies," CEMS alumni, and Corporate Partners.
Greta Margaux KLIER
(WU, 2016/2017)
Get involved. Find out what CEMS can offer you. The range is incredibly broad starting from joining the local CEMS clubs up to being a Student Board rep for your home school. There are a lot of chances to meet and get to know people from all over the world.
Constantin HUESKER
(ESADE Business School, 2016/2017)
We had a great CEMS club which held regular activities, and that helped create a strong bond among the"CEMSies."
Nicholas LEUNG
(HEC Paris, 2016/2017)
Coming to Keio really opened up my eyes to career opportunities beyond my home country. It showed me how great an international career could be and that I am equipped for such a path. I felt like it allowed me to fully experience all the benefits and challenges of going on an exchange and adjusting to a new culture. Learning how other people live, think, what they value, and how they conduct business has put things into perspective for me. It showed me what I value in my home country, but was also a great inspiration to see how things could be done differently.
Nina SCHMID
(University of St.Gallen, 2016/2017)
I think that practical experience in the real international business world is the most valuable thing that the CEMS MIM Programme provides us. Studying textbooks may not be enough. Actively taking the chances that CEMS offers and making full use of them will absolutely benefit our future careers.
李雨嘉 Yujia LI
(Tsinghua SEM, 2016/2017)
You will be part of an exclusive group of visionary global nomads. If you are looking for a corporate job, CEMS is the right platform to connect you to excellent companies.
Ahmad MIARI
(University of Economics, Prague, 2015/2016)
The CEMS network is extremely strong. It doesn't matter which country you live in, you will always find a local CEMS community you can connect with. The programme also has an excellent reputation among the corporate partners making it easier to start your career with one of them. You will graduate from the programme with a truly global mindset.
Pascal LANGE
(NOVA School of Business and Economics, 2014/2015)
My CEMS MIM term abroad at Keio exceeded all expectations. The business project was a complete cultural immersion experience into a Japanese corporation and the Japanese work culture, which greatly contributed to my development in management and cross-cultural skills.
João DOS SANTOS
(Warsaw School of Economics, 2013/2014)
CEMS Club Tokyo
At many CEMS schools, student organizations called "CEMS club" have been organized. CEMS clubs help students share the same spirit and identity, and build the network of CEMS students not only within each school but also between schools worldwide. CEMS clubs are the venues where an active student life with CEMS begins.
Instagram Account of CEMS Club Tokyo:

CEMS Alumni Association
The CEMS Alumni Association (CAA) was established in 1993 by CEMS graduates to provide an international network for CEMS alumni. CAA's local communities (LCs) are the actual bodies responsible for maintaining contact with the CEMS alumni and organizing social and professional activities locally.
For more information about the CEMS's Alumni network, click on the following link:
https://www.cems.org/cems-community/alumni
News & Events (Keio CEMS)

The CEMS Graduation Ceremony
Keio Global Facebook Page
Life at Keio University (Information for International Students)
Contacts
Keio CEMS Office
Office of Student Services (International Exchange Services Group)
Keio University
2-15-45 Mita, Minato-ku
Tokyo, JAPAN 108-8345
Tel: +81-3-5427-1617
Fax: +81-3-5427-1638
Email:
cems-coordinators@adst.keio.ac.jp