The International Center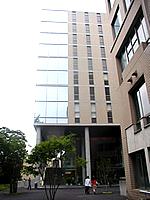 Since its establishment in the 1960s, the International Center has contributed to the development of the university's international programs. Today, it continues to coordinate and regulate such activities, along with the Global Engagement Office.
The International Center manages various programs, such as short and long-term student/faculty exchanges with universities abroad, courses taught in English on Japan and East/Southeast Asia, etc. The Center also organizes lectures and seminars by international scholars.
In addition to its role administering academic programs, the International Center also assists international students and scholars coming to Japan, by arranging subsidized housing and providing a range of services, including information on available scholarships and events.
The International Center also works closely with the Center for Japanese Studies, which provides Japanese language classes to international students and visiting scholars.
International Center Global Lounge
The International Center Global Lounge, opened in October 2015, is located on the first floor of the South School Building on Mita Campus. The Global Lounge is an open space for Keio and international students to meet and interact informally. A bright and airy design was incorporated so that students can feel free to come and go between classes, and lists and maps showing Keio's partner institutions and photos are arranged decoratively on the walls. Various resources such as information on studying abroad and on partner institutions are available in the lounge, and the space will also be used as a venue for study abroad information sessions and other events in which both Keio and international students can participate.
Available information documents at the Global Lounge:
Short and Long-Term Exchange Programs
Study abroad (Language Proficiency Tests, guidebooks for study abroad)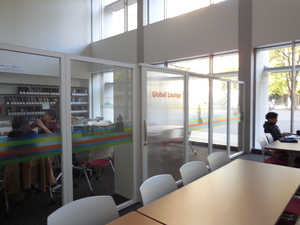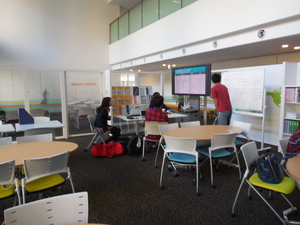 The Global Lounge Entrance                       The Global Lounge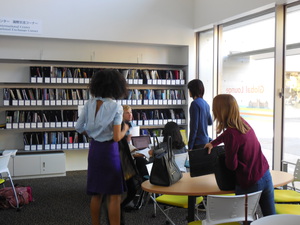 Students using the resources of the Global Lounge            The Global Lounge from outside
International Exchange Services Group, Office of Student Services & Bulletin Board
Information on cultural exchange programs within Japan and study abroad is available at International Exchange Services Group, Office of Student Services (the South School Building B1F, Mita campus). There are also Bulletin Boards on the first floor of the West School Building and on the first floor of the Graduate School Building.
Short and Long-Term Exchange Programs (arranged by International Center or Keio partner institutions)
Study abroad events (organized by public or private institutions)
Language Proficiency Tests
Events for international students (announced by public or private institutions)
Others