Voices of CEMS Students and Alumni
Voices of CEMS Students and Alumni
Voices of CEMS Alumni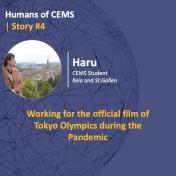 Our current CEMS student, Chunyang Bai (Haru), from Keio Media Design is introduced on the CEMS Global website.
"Today, let us introduce Chunyang Bai (Haru), a current CEMS student from China. Haru's home university is Keio University, Japan, and he went on exchange to University of St. Gallen, Switzerland in Fall 2019. As a former TV journalist, Haru had a chance to work for a project that was filming the documentary for Tokyo Olympics 2020. In today's episode, Haru is going to tell us his personal story of how he managed his way from China to Japan and his experience of working for Tokyo 2020 during the pandemic."
How did COVID-19 change your life in general?
Like most CEMSies, my life has also been influenced by the virus. At the end of last year, after a wonderful exchange term in the University of St. Gallen, Switzerland, I flew back to China, ready to celebrate the Chinese New Year with my family and friends. However, things suddenly changed, and fears rose among everyone, as the outbreak of COVID-19 started to hit the city of Wuhan. Actually, my hometown, Shenyang, is quite far from Wuhan, but life was still significantly influenced. I spent most of the time at home, sometimes overwhelmed by news on the pandemic from TV and social media.
The spring semester starts late in Japan, usually around the beginning of April. However, as the situation was changing every day, and more and more flights between China and Japan got cancelled, the CEMS office of Keio University gave me a really timely advice of going back to Japan as soon as possible. Despite my flight been canceled three times, I managed to fly to Tokyo in the mid-February. The day I left from Beijing Capital International Airport was quite shocking, because this one-of-the-busiest-in-the-world airport looked nearly deserted. No businessmen with suits and ties, no family with kids excited about their trips, and no long-distance traveler laying on the benches with their exhausted faces. It was sad to see such an unexpected scene and leave my country and hometown with so many uncertainties.
At that time, though the virus had already started spreading in Japan, the situation was still OK. So, I was still full of expectations for this year, especially for Olympics, because just after getting back to Japan, I was offered a chance to work on the official film of Tokyo 2020.
COVID-19 must have affected your job on the official film of Tokyo 2020 as well.
Yes, indeed.
I was telling all of my friends how wonderful this summer would be, as I would witness the Olympics through my lens. As summer was approaching, I was quite busy contacting athletes and NOCs around the world and scheduling interviews with them, and I really enjoyed it, because it felt good to work on something that is certain to come after experiencing such an unexpected and uncertain situation.
However, things sometimes just went the opposite way of what we were expecting. As outbreaks occurred in Europe and North America, the fate of Tokyo 2020 became more and more gloomy. Our interviews with athletes scheduled for April and May got canceled one by one. As a formal news editor, I could say that I was skilled in covering the dramatic and chaotic moments, but this time, I had to admit that I completely lost my direction. Actually, everyone working in the Japanese Olympic Committee offices looked anxious and discouraged. For those who have been working on the project for years, such sudden change was just hard to digest.
After the announcement of the postponement of the Olympics, we switched the focus on the ongoing pandemic and how the athletes and other people were dealing with the unexpected tough time, so as to inspire the world. Actually, the theme of the film was "to inspire future generations" even before the pandemic. By then I thought this was just something that sounds pretty, but now I believe the film will finally live up to the theme.
How has your life as a CEMS student changed by the pandemic?
Since April, I have been working from home and having the new CEMS semester online. I have to say that it was a bit awkward at the beginning of the online courses, because the cohort of this year had never met in person. The big time difference also made it difficult, as many of the cohort who are stuck in Europe have to wake up at 3:00 am to attend business project meetings. But meeting each other online day by day, we are getting along better and better. I think this is kind of the magic of CEMS. We come from different countries and backgrounds and speak different languages, but we know how to share things in common and respect the differences we have.
By now, Japan is gradually lifting the state of emergency and many European countries are relaxing restrictions. I am hoping that the cohort of CEMS Tokyo will finally meet up in Tokyo. Sure, I am aware that there is potential risk of a second wave of outbreak anytime anywhere, but I guess "preparing for the worst, and hoping for the best" is one of the wisdoms we should take from this experience through the pandemic.
Last week, I took the subway of Tokyo for the first time since the announcement of state of emergency. During the ride, an advertisement from a really famous Japanese troupe, Shiki Theatre Company, really caught my eyes. It reads, 明けない夜はない, which translates as "Through every dark night, there will be a bright dawn." I will keep my fingers crossed for everyone, and of course, my Olympic dream, waiting for the day that the Olympic flame light up the Isles of Japan and the hope in everyone's heart.
Other news are on the website below.