3 Campus East Asia Program
This is a student exchange program undertaken in collaboration between Yonsei University Underwood International College, The University of Hong Kong Horizons Office, and the Keio University International Center.
The program, which aims to deepen understanding about the East Asian region, involves making the rounds of all three universities over the course of a year, while attending classes in English and living alongside students selected from the three partner universities.
The 6 appeals of the "Keio-Yonsei-Hong Kong East Asian Leadership Program"
Learn about Asia in English.
(Brush up your English while deepening your understanding of East Asia. Korean and Chinese language classes can also be taken.)
In addition to students from Yonsei University and the University of Hong Kong, both eminent institutions in Asia, you will access a close-knit network of students from leading universities in Asia, the United States, and Europe, as students from top level universities in these regions will also participate in part of the program.
As of 2022, cooperative agreements under which student placements are arranged for one year or six months have been concluded with King's College London in the United Kingdom; Princeton University/Cornell University/University of Southern California/Georgetown University in the United States; and the University of Geneva in Switzerland).
Knowledge of the regions can be deepened firsthand through a study abroad experience in Seoul and Hong Kong.
The study abroad period is the Spring Semester only (study at Keio for the Fall Semester).
Exemption from academic fees and expenses at the study abroad destinations (common to exchange student program placements).
If the designated eligibility criteria are met, you will receive a benefit-type scholarship from the Japan Student Services Organization (JASSO) (six monthly payments of 70,000 yen).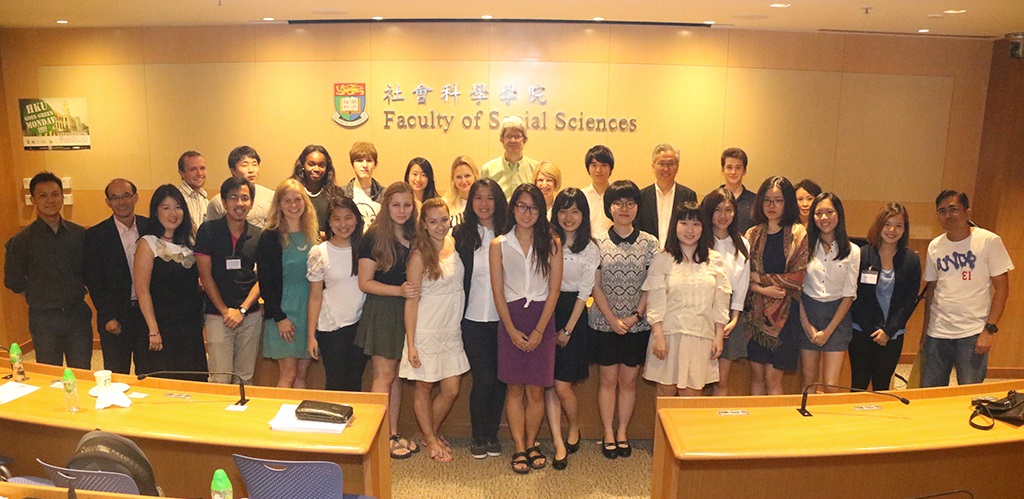 Program applications
Number of placements

About 5 persons

Eligibility criteria

Persons who will be enrolled in their second or third year of study at an undergraduate faculty during the duration of the program

Period

September 2022 to August 2023

1) Keio University September 2022 – early February 2023 (Fall Semester)

2) Yonsei University late February 2023 – July 2023

3) The University of Hong Kong July 2023 – mid-August 2023

*The actual period of the study abroad will thus be from late February to mid-August of 2023

Condition

Just as is the case with a student exchange, participants will pay academic fees and expenses to Keio University during the period of the study abroad and be exempt from tuition fees at the host university.

Language proficiency requirements

TOEFL iBT 80 or IELTS 6.5
Schedule and program overview
University
Period

Course content (planned)

*Students of the three universities will in principle take the below courses throughout the period.

Keio University
Late September to early February
Students who participate in this program will take courses from those designated by the International Center for the AY 2022 Fall Semester



Reference: AY 2021 Required/Optional Subjects 
Required Subjects:「CROSSING BORDERS: ADAPTING TO JAPAN AND ADAPTING TO THE WORLD」(Shaules, Joseph)


Optional Subjects:
Two subjects from the seven listed below

-「HUMAN RESOURCE MANAGEMENT IN THE ASIA PACIFIC REGION」(Drummond, Damon)
-「INTERCULTURAL COMMUNICATION」(Okugawa, Ikuko)
-「JAPANESE BUDDHISM AND SOCIAL SUFFERING」(WATTS, Jonathan S.)
- LAW AND DEVELOPMENT IN EAST ASIAN COUNTRIES(MATSUO, Hiroshi)
- INTRODUCTION TO JAPAN'S HISTORY AND CULTURE(PRESSELLO, Andrea)
-「JAPANESE BUSINESS AND SOCIETY」(Umezu, Mitsuhiro)
-「CULTURAL PRESUPPOSITIONS IN JAPANESE COMMUNICATION」(Suzuki, Rie)

Webpage for International Center courses
*It is planned to update courses for AY 2022 after March 2022.

Yonsei University
Early February – mid-June

Courses to be taken will be as designated by Yonsei University

The University of Hong Kong

Early June – mid-August (planned)

Participation in the summer school set up by the University of Hong Kong

*Please note that internships will not be arranged from AY 2020–21. Students take summer courses for six week period at The University of Hong Kong, instead.



Important Notes
It is required to register for the courses set by the International Center within the registration period for AY 2022 courses.
While it will be possible to take courses offered at your affiliated faculty in addition to required and optional courses for the AY 2022 Fall Semester, you will prioritize courses to be taken as those in the Keio-Yonsei-Hong Kong East Asian Leadership Program throughout.
You are requested to confirm at the Academic Affairs Section for your faculty on the campus where you are based as to the application method for transferring credits from The University of Hong Kong and Yonsei University.
Under this program, you will be awarded credits for the courses taken at the three universities after first attending all sessions for Keio, Yonsei, and Hong Kong. Please be aware that should you suspend or withdraw from your study abroad partway through, credits acquired during the program will in principle not be recognized.
Application documents/recruitment period/application method/selection/outcome notification
Please refer to AY 2022 Study Abroad Guidelines Application Guidelines for Student Exchange Program Placements
Participant's Voices
2019–20 participants
I applied for the 3-Campus Program because I was attracted by the fact that I could learn about East Asia in multiple countries. In fact, I feel that I have broadened my horizons by experiencing both the transmission of my own culture and the absorption of the cultures of other countries. Another big difference between this program and other programs is that I have a group of international students from all over the world with whom I will be working for a year. I felt more reassured than I had imagined that I already had friends when I started studying in Korea. I think this is a very attractive program because you can meet people in various ways, both the program participants and the friends you meet in your study abroad destination, and you can make connections all over the world while being constantly stimulated.
2018–19 participants
I wanted to study abroad in Asia and use English, so when I was looking for a study abroad program, I heard about the 3-Campus Program and applied for it. I was attracted by the fact that I would only be away from Keio for one semester, which is shorter than other exchange programs, the fact that I could visit two cities in six months, and the fact that I could make a variety of friends from universities around the world. It is a meaningful program that allows students to learn about East Asia from all angles.
2017–18 participants
You can learn through real-world experiences the values, customs, and daily lifestyles of the country through learning while moving physically among the study abroad destination countries. Moreover, over two thirds of the students participating in the program are from Europe and the United States, meaning there are regular debates grounded in opinions and ideas derived from the values held in their countries. I think that the greatest charm of this program is the opportunity it affords to learn from multifaceted perspectives on aspects such as the culture and politics of East Asia.
2016–17 Participants
The six-month period of the program was immensely enjoyable, and I was able to make many friends who I have grown very fond of, in particular those from Asia. I think that the special feeling you get from spending the year at campuses in three different locations is testament to the strength of the trust and bonds among the participants. These bonds were a mysterious source of reassurance even after the study abroad had concluded, and I frequently reflect with satisfaction on my participation in the program.
2015–16 Participants
This was an extremely fulfilling program. The opportunity to live in Korea and Hong Kong, which have profound interactions with Japan, afforded a thoroughgoing consideration of Japan and its relationships with countries overseas.
2014–15 Participants
You will learn about East Asia from both individual and overarching perspectives as part of the program. When you are in Korea and Japan you will learn about foreign relations from individual perspectives and about East Asia as a comprehensive whole while in Hong Kong. In addition, you will have the chance to get used to working overseas as part of the complementary internship during the program, an extremely valuable experience. This is a program I would heartily recommend to students who wish to be active on the East Asian stage in the future.
2012–13 Participants
Please refer to the Keio University Global website
2011−12 Participants
Please refer to the personal experience (Available only in Japanese
2010–11 Participants
This is the most forward-looking of all of the student exchange programs. Outstanding students from the three countries come together in one place where they will spend time in intimate contact while deepening their studies in a multifaceted way. You will share your dreams with peers from diverse global backgrounds, be it students from China, Korea or beyond. Before I knew it, I had friends from countries throughout the world with whom I continue to interact. In the future, our generation will show the way forward for the 21st century. It is thanks to this program that I feel this way. This is for people who want to get a multifaceted perspective on Asia, or even those who want to somewhat expand the scope of their experiences. Why not join us by opening your own door to Asia?
Please also refer to the personal experience(Available only in Japanese
2009–10 Participants
"You will have experiences which 'triple' those of a normal study abroad placement," spending a year in the company of students from three different cultural zones while visiting each other's homes. The tripartite worldview afforded by this completely new type of study abroad program, and the sharing of human values which transcend friendship with outstanding peers from Asia, will surely be of great service to those living through a 21st century with Asia at the center of its ongoing orientation. If you are currently agonizing over where you will spend your study abroad, I heartily and readily recommend this program. A life-changing experience surely awaits you.
2008–09 Participants
While the name alone would suggest that this program is focused exclusively on Asia, in fact I was able to continually rediscover myself in the midst of days surrounded by international students from countries all around the world. I found myself as a Japanese national, as an Asian, and as one person among the many who call this planet their home. Despite seemingly vast superficial differences, I completely reassessed my impressions of the east-west divide while sharing the same day-to-day worries and being exposed to the fundamental differences in worldviews born of diverse upbringings.
You may also refer to the study abroad reports for more details
Inquiries
International Exchange Services Group, Office of Student Services, Keio University
Tel. 03-5427-1613
Student Exchange section: MAIL