NTC Practicum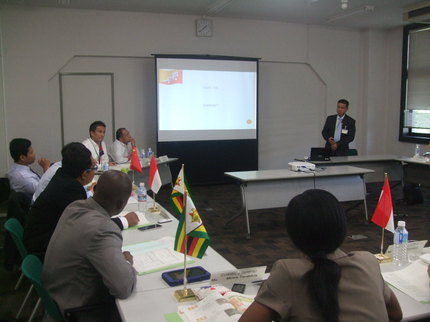 The NTA offers staff training to NTA officials through its training institution, the National Tax College (NTC). This college also engages in academic research on taxation while providing outreach programs for officials of developing countries.
The purpose of the NTA Practicum is to provide students with the opportunity to attend lectures given by tax officials who are currently in charge of tax administration and to visit places where tax administration is actually carried out. The Practicum is also intended to help students to gain some practical knowledge in tax administration. The 1st year students are required to attend the NTA Practicum every Monday from October 2018 to June 2019.
Lectures
:
The members of the NTC faculty offer the course on the fundamentals of the Japanese tax system and principal tax laws concerning Income Tax, Corporation Tax and Consumption Tax (Japan's VAT). This course is a prerequisite for the subsequent course on Japanese tax administration.
:
Lectures will be given on specific topics such as the administrative work involved with tax examination, taxpayer services, revenue management and collection, and International Taxation. Each lecture is given by members of the NTC faculty as well as NTA officials.
Individual Research
Utilizing the knowledge acquired in the coursework, and with the assistance and guidance of professors and assistant professors of the NTC, students are required to write a research paper. For the paper, students choose one major issue/problem that his/her tax administration faces and present a recommendation/solution to the issue/problem. (Therefore, students are strongly urged to bring relevant data and research materials with them from their own home countries.)
Quasi-Tax Treaty Negotiation
Students will be given an opportunity to conduct a Quasi-Tax Treaty Negotiation. In order to provide students with sufficient knowledge for tax treaty negotiation, a one-week tax treaty intensive course will be held in March 2017.
Field Trips
To broaden the practical knowledge of the students, various field trips are also planned to visit regional taxation bureaus, tax offices, and so on. These visits will allow students to have Q & A sessions with tax officials and observe the actual work in progress.