Student Life
In this page, we provide you the information that will be very useful for your life in Japan and as a student at Keio.
International Student Handbook 2022:
JPN:2022_International_Student_Handbook_JN
ENG:2022_International_Student_Handbook_EN
Short Guidance Videos
You will be able to watch videos once you activate your keio.jp account. *Available only after September 22*
<Student Life Orientation Video>
*Click the image to watch.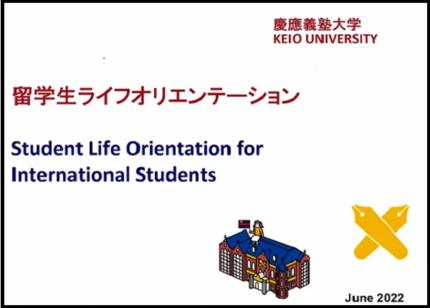 <Library Orientation Video>
*Click the image to watch.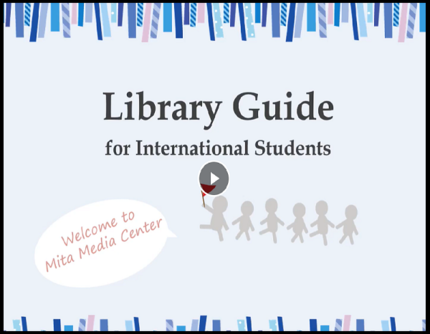 <Mita Campus Tour Video>
*Click the image to watch.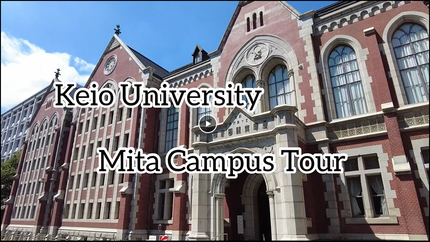 Media Center (University Library)
When using the facilities or systems at the Media Center (University Library) , refer to the following page:
Use of Other Campus Facilities
Information on the use of the facilities is updated in light of the situation of COVID-19.

If you have any concerns during your exchange, consulation is available at the Student Couceling Room on each campus.
Support Groups for International Students
Keio University has various support groups for international students which are officially approved by the International Center. These groups are organized by current students and alumni, and will help you with your life in Japan on- and off-campus.
KOSMIC is a Student group that works with the International Center, and they organize the welcome party, field trips , etc. for International students. Get in touch with KOSMIC members now!
Information regarding Status of Residence
All foreign nationals entering and staying in Japan are assigned a status of residence at the port of entry. Your status of residence(Visa Status) is "Student."
A Residence Card will be issued at the airport to mid- to long-term residents who have landing permission in Japan.

You should carry your Residence Card at all times and present it when requested by police officers or government officials.

Keio University regularly report international student's residence status to MEXT and Tokyo Regional Immigration Bureau. Therefore International students are required to submit a copy of their Residence Card to the Office of Student Services.

If your visa status is not "Student", you may not be eligible for some of the privileges, services, or scholarships available for "Students."
Students who hold the "Student" status are not allowed to work. Permission from the Immigration Bureau is required to engage in other activities, such as taking part- time jobs.

If you wish to engage in activities aside from your studies, such as part-time jobs, you must obtain permit from the Immigration Bureau beforehand.

With permission, students are allowed to work up to 28 hours a week (up to 8 hours in a single day during summer, winter, and spring breaks) as long as the work is not deemed to be socially immoral.

If you engage in part-time work without permit, or work outside the scope of activities or hours designated under the permit, you will be deemed to have worked illegally. In this case you could be sentenced up to 1 year of imprisonment; or a fine up to 2 million yen. You may also be subject to deportation.
If you did not apply for the permit at the port of entry.
Prepare necessary documents and apply for a "Shikakugai Katsudo Kyoka" (資格外活動許可) at the Immigration Bureau.

After you receive this permit, please ensure that you make a copy of your Residence Card and submit it to the Office of Student Services.
It takes about 2 weeks to 1 month for screening. Apply as soon as possible if you are planning to work part-time.
You cannot stay in Japan beyond the period of stay stated on your Residence Card. Please apply for Extension of Stay at the Immigration Bureau before it expires

After your period of stay is extended, you are required to submit a copy of your Residence card to the Office of Student Services.

Please consult the Immigration Bureau about the application documents before applying. Necessary documents differ depending on each applicant.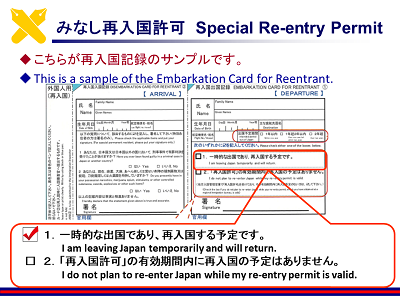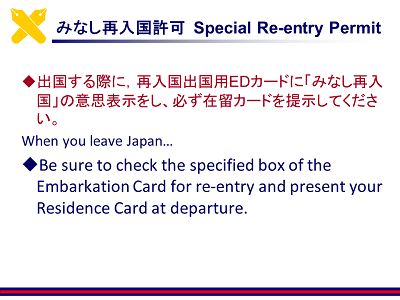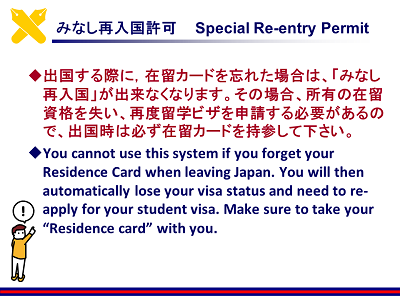 Important Tips for Living in Japan
Important Tips for Living in Japan is available from HERE
In case of Emergencies
Helpful infomation in case of any emergencies is available from HERE. Make sure to check this page just in case.