Interaction with Keio students
Keio Tomodachi Program (Buddy)
Why join the buddy program?
Learn about Japanese culture

Make friends & build a network

Learn tips & secrets about Tokyo & the Keio

You get to practice Japanese
How it works?
Buddies are students at Keio University who volunteer to introduce you to the Japanese way of life. As a participant in the Keio Tomodachi Program, you will be part of a buddy group that consists of approximately 2-3 buddies and 3-4 international students.

Once the buddy group is organized, Keio students will be in touch with you . Each group decides what you would like to do within the framework of the Keio Tomodachi Program. It's everyone's responsibility to make it a success! There will be a meet-up session at Mita Campus in mid-late April.
How to apply?
The application is really easy.
Just fill out the following form: Application for 2020 Spring Semester Program
**Due to the situation, the program is postponed during the Spring Semester 2021.**
The Global Lounge and the Communication Lounge
The lounge is designed to be a welcoming and open space for all students, particularly for international students and Keio students interested in getting to know each other.
The Global Lounge is located at Mita campus and the Hiyoshi Communication Lounge is located at Hiyoshi campus.
Lunch @ Global Lounge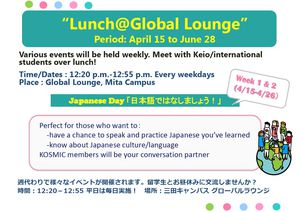 Meet with Keio/international students over lunch!
"Lunch @ Global Lounge" is held every day during lunch at the global lounge, Mita campus.
Don't miss this opportunity to practice Japanese you've learned and/or meet other students.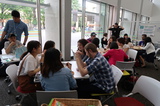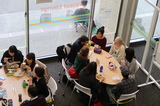 Various Events Organized by International Center Student Staff (KOSMIC)
Welcome Party
Watching Waseda-Keio Baseball Match
Japanese Speech Contest for International Students